Saturday, January 8, 2000,
Chandigarh, India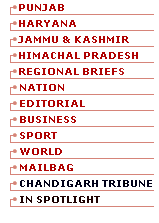 S P O T L I G H T
'Jehad' threat by Azhar
BAHAWALPUR, Pakistan, Jan 7 (AP) — Maulana Masood Azhar, Pakistani militant freed by India to end the hijacking of an Indian Airlines plane, today threatened a holy war against India at a Friday prayer meeting. He urged men in the congregation to sign up to fight against Indian rule in Kashmir. "There is no way open for us other than to wage jehad (holy war) against India" to achieve the goal, Azhar told thousands of people who gathered outside a mosque to hear his sermon. .
Actresses summoned
MUMBAI, Jan 7 (PTI) — A local court today ordered leading film actresses — Madhuri Dixit, Karisma Kapoor, Juhi Chawla, Raveena Tandon, Tabu and Mamta Kulkarni — to appear in person on February 16 next in a case of alleged obscenity filed against them. Hearing a complaint filed by Archana Ben, a resident of Baroda, the Metropolitan Magistrate Mohan Puranik warned that if they failed to appear in person on that day, non-bailable warrants (NBWs) — would be issued against them.
7 killed in mishap
UDHAMSINGH NAGAR (UP), Jan 7 (PTI) — Seven persons were killed and eight injured when a passenger train rammed into a matador at an unmanned level crossing near Kichha railway station on the Bareilly-Kathgodam section, railway sources said. Four persons were killed on the spot while the rest succumbed to their injuries in hospital, the sources said. The mishap involved the 142 Dn Lalkuan-Bareilly passenger train, they said. The injured were hospitalised.