Tuesday, January 11, 2000,
Chandigarh, India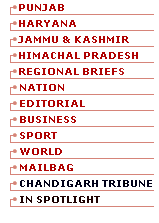 S P O T L I G H T
Samata Party leader revolts
NEW DELHI, Jan 10 (UNI) — Former MP and trade unionist H.P. Singh of the Samata Party today raised a banner of revolt by demanding that his party should work together with the Janata Dal (United) if the electoral wishes of the people of Bihar were to be fulfilled. Recalling that it was only three months ago the Samata Party and JD(U) had promised to contest together under the "ARROW" symbol in the next assembly poll in the state to end the "jungle raj", he told a press conference that morality demanded that the same arrangement should continue.
Japanese rocket
TOKYO, Jan 10 (PTI) — Japan today successfully launched a small rocket for observing the night sky's radiation known as 'airglow', officials said. The first domestic rocket aimed at conducting comprehensive observation of airglow was launched from the Institute of Space and Astronomical Science facility in Uchinoura, Kagoshima prefecture early today, the Kyodo news agency said quoting institute officials.
YC workers' protest
RANCHI, Jan 10 (UNI) — Youth Congress workers today burnt an effigy of Indian Youth Congress Chief Manishankar Tiwary and senior party leaders Ahmad Patel and V. George protesting against the nomination of Mr Manishankar Thakur as president of the Jharkhand Regional Youth Congress.