Thursday, January 13, 2000,
Chandigarh, India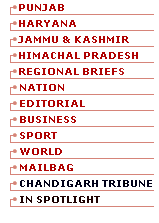 S P O T L I G H T
Mizo Ministry expanded
AIZAWL, Jan 12 (ANI) — The Zoramthanga Ministry in Mizoram was expanded today with the induction of five ministers of state. Two ministers of state were elevated to the rank of Cabinet ministers. The expansion was necessitated following the sacking of five ministers on December 9 last. Mr B. Lalthlengliana and Mr H.V. Nlalauva were sworn in as Cabinet Ministers by the Governor, Mr A. Padnanabhan at Raj Bhavan.
Accord reached
DHAKA, Jan 12 (DPA) — Bangladesh and India today reached an accord over a frontier river, ending a three-decade-old bilateral dispute which had touched off bloody skirmishes, official sources said.
Nedunchezhiyan dead
CHENNAI, Jan 12 (PTI) — AIADMK Presidium Chairman V.R. Nedunchezhiyan died here this evening at the Apollo Hospital, hospital sources said. He was 79. Mr Nedunchezhiyan is survived by his wife, Dr Visalakshi and a son. He died of acute isechaemic problem.
Booked under NSA
ALIGARH, Jan 12 (PTI) — Two students of Aligarh Muslim University (AMU), Sarwar Iqbal and Naseem Ahmed, arrested following last month's violence in the campus, have now been booked under the National Security Act (NSA) and transferred to Agra jail, District Magistrate Dev Dutt said today. The students had been arrested in December.