Friday, January 14, 2000,
Chandigarh, India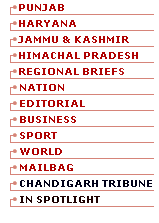 S P O T L I G H T
Eight gunned down
MUZAFFARNAGAR, jan 13 (PTI) — Eight persons were gunned down by miscreants at Fahimpur village in the district while they were returning from a court hearing, the police said on Thursday. The assailants dragged the victims out of the bus in which they were travelling and shot them dead, Senior Superintendent of Police Ashutosh Pandey said. An old rivalry was said to be the cause behind the crime, he said.
Chief Engineer killed
IMPHAL, Jan 13 (PTI) — S.C. Sher, Chief Engineer of a hydroelectric project near here, was killed last night by underground militants demanding extortion money, official sources said today. Three heavily-armed militants asked Sher to come out of his official residence in a guest house in Bishenpur district around 7:30 pm and shot him from point blank range. Sher received more than eight bullet wounds.
Chandraswami's plea
NEW DELHI, Jan 13 (PTI) — The Supreme Court today dismissed controversial godman Chandraswami's application seeking permission to go abroad for treatment. A Division Bench comprising Justice D.P. Wadhawa and Justice S.N. Phukan rejected the plea of Chandraswami, who is facing trial in several cases in different courts. Chandraswami had moved the apex court after his plea was earlier rejected by the Delhi High Court.