Friday, January 21, 2000,
Chandigarh, India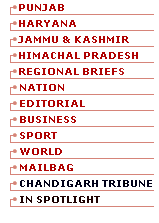 S P O T L I G H T
Chadha's arrest warrant cancelled
NEW DELHI, Jan 20 (PTI) — A Delhi court today cancelled the non-bailable warrant (NBW) issued against Dubai-based NRI businessman W.N.Chadha in the Rs 64 crore Bofors pay-offs case and directed him to appear before it on February 3. Special Judge Ajit Bharihoke, who had issued the NBW against Chadha on December 14 last year for his failure to respond to summons, withdrew the NBW as the accused was prevented from coming to India due to "reasons beyond his control" as he lacked the required travel documents at the relevant time.
Port staff strike
NEW DELHI, Jan 20 (PTI, UNI) — Fresh round of talks between striking port workers and the government to end the impasse over the wage-related issues will start tomorrow morning following the Surface Transport Ministry's invitation to trade union leaders. Official sources said Surface Transport Minister Rajnath Singh had received a letter from a leader of one of the five federations which gave a call for indefinite strike at 11 major ports on Tuesday, following which the ministry invited the unions for resuming the dialogue at 11 am.
Indian envoys
NEW DELHI, Jan 20 (UNI) — Mrs Neelam D Sabharwal, currently Minister and Deputy Chief of Mission in the Indian Embassy in Beijing, has been appointed as India's permanent representative to UNESCO, Paris, with the rank of Ambassador, in succession to Mr Chiranjiv Singh, according to an official press release. Mr Binanda Kumar Gogoi, Minister in the Indian Embassy in Helsinki, has been appointed the Indian Ambassador to South Korea, in succession to Mr J.S.Sapra.