Saturday, January 22, 2000,
Chandigarh, India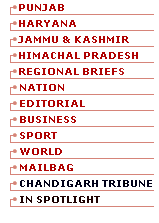 M A I N N E W S
30 killed as bus falls into river
CHAMBA, Jan 21 (PTI, FOC) — At least 30 persons were killed when a bus veered off the road and fell into a river at Kalhel on Chamba-Bhanjraru highway 45 km from here, today, the police said. Only the driver escaped as he jumped out of the bus.
Mr R.M. Sharma, Superintendent of Police, said as per preliminary reports the bus was on its way from Chamba to Bhanjraru. It left Chamba around 5 p.m. and the accident occurred at about 7 p.m.
On receiving the information about the accident, the SP, the Additional District Magistrate and other officers along with a team of doctors went to the accident site to carry out rescue and relief operations.
However, further details are awaited as the bus has been wrecked completely as most of the bodies completely mutilated.
Meanwhile, the Himachal Pradesh Governor, Mr Vishnu Kant Shastri, and Chief Minister Prem Kumar Dhumal have expressed shock over the accident and sympathies for the bereaved families.