Saturday, January 22, 2000,
Chandigarh, India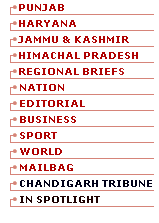 S P O T L I G H T
Militants kill 3 in Udhampur
JAMMU, Jan 21 (PTI) — Three civilians and a militant were killed, while another was injured in Udhampur district of Jammu division, official sources said here tonight. Militants attacked Dangsal village in the district, killing three persons and injuring one. The village defence committee members, who rushed to the spot, fired at the militants in which one of them was killed while the others managed to escape, they said.
Port workers' stir
NEW DELHI, Jan 21 (PTI) — Talks between the government and five key port federations resumed today to end the indefinite strike which entered the fourth day disrupting cargo handling in all 11 major ports. The port workers federations returned to the negotiating table after the government invited the unions for talks to break the deadlock since the strike began on January 17 demanding higher wages.
Azhar leaves Pak
MULTAN, Jan 21 (AFP) — Maulana Masood Azhar, one of the three Pakistani militants freed by India to end the hijacking of an Indian Airlines jet, has left for Afghanistan, his father Allah Bakhsh Sabir today said. A day after getting married on January 17 at his home in Bahawalpur in central Pakistan, Azhar left for Afghanistan to meet with Mulla Mohammad Omar, the supreme leader of the ruling Taliban Islamic militia, Mr Sabir said.