Friday, January 28, 2000,
Chandigarh, India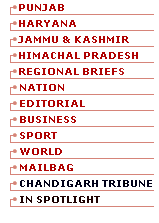 S P O T L I G H T
Masood Azhar in Islamabad
ISLAMABAD, Jan 27 (AFP) — Maulana Masood Azhar, one of the three militants released by India to end the Indian Airlines plane hijacking in December, today appeared at a Mosque in Islamabad. The police stood guard at Lal Mosque in Islamabad along side men from Azhar's own groups armed with Kalashnikov assault rifles. Gunmen took up positions on the roof.
Curfew in UP town
LUCKNOW, Jan 27 (PTI) — The entire Azamgarh town was today put under curfew and additional paramilitary forces were deployed following firing and arson in communal clashes over rendition of "Vande Mataram" at a Republic Day college function. The curfew was clamped from 2 p.m. onwards in the entire town after clashes in which students from two communities set afire motor cycles and damaged shops. Two companies of the rapid action force and four additional companies of the PAC have been deployed in the troubled area.
RJD leaders resign
AURANGABAD, Jan 27 (UNI) — Enraged on being denied ticket for the Assembly elections, RJD national executive member and former MP Virendra Kumar Singh and Aurangabad district unit vice-president Prem Kumar Singh today resigned from the party along with their supporters. Mr Virendra Singh told reporters that they resigned in protest against the "arrogant" behaviour of RJD supremo Laloo Prasad Yadav.
Screen award for PM
NEW DELHI, Jan 27 (PTI) — The Prime Minister, Mr Atal Behari Vajpayee, received the Screen Videocon Award for lyrics in the non-film category here today. The award, sixth in series, was presented to Mr Vajpayee at his residence by Indian Express Group Deputy Chairperson Ananya Goenka and Videocon Managing Director R.N. Dhoot. The Prime Minister was honoured for his collection of Hindi poems "Nai Disha".