Wednesday, February 2, 2000,
Chandigarh, India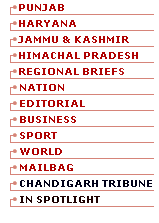 S P O T L I G H T
Uma's resignation accepted
NEW DELHI, Feb 1 (PTI) — The resignation of Union Minister Uma Bharati has been accepted by Prime Minister Atal Behari Vajpayee, a Prime Minister Office spokesman said tonight. The acceptance of Ms Bharati's resignation came a day after she had called on the Prime Minister and pressed for the same. The resignation has been forwarded to President K.R. Narayanan for acceptance, the spokesman said. Ms Bharati had resigned from the Union Council of Ministers last month protesting alleged police assault on the BJP corporators.
Army exercise
Tribune News Service
CHANDIGARH, Feb 1 — The Army is carrying out an exercise in the Suratgarh and Rattangarh area of Rajasthan, about 100 km from the international border. According to a statement issued here today, the exercise will be conducted this month and an Army division along with an armoured brigade and the Air Force will be put through the exercise. Some other controlling headquarters are also likely to participate in the exercise.
Ex-AG convicted
BHUBANESWAR, Feb 1 (UNI) — Former Orissa Advocate-General Inderajit Ray was today sentenced to three years' rigorous imprisonment and a fine of Rs 5000 by the Assistant Sessions and Chief Judicial Magistrate's court here in the infamous Anjana Mishra molestation case. Mr Srikant Nayak pronounced the judgement in a packed court room. Mr Ray was convicted under Section 376/511 of the IPC (attempt to rape) and Section 354 of the IPC for outraging the modesty of Ms Mishra.