Wednesday, February 9, 2000,
Chandigarh, India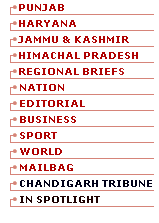 S P O T L I G H T
UP Cabinet reshuffle
LUCKNOW, Feb 8 (PTI) — The Uttar Pradesh Chief Minister, Mr Ram Prakash Gupta, today reshuffled portfolios of six Cabinet and 18 Ministers of State in the backdrop of unhappiness expressed by several ministers belonging to the BJP's allies regarding "discrimination" in allocation of departments. The reshuffle covered 11 ministers of the BJP, six of the Loktantrik Congress Party and seven of Janatantrik Bahujan Samaj Party of the 89-member two-tier council of ministers.
'Samjhauta' issue
CALCUTTA, Feb 8 (PTI) — The Railway Minister, Ms Mamata Banerjee, today said that a decision on the cancellation of Lahore-Delhi 'Samjhauta Express' would be taken after joint consultations among the External Affairs, Railway and Union Home Ministries.

Chechen Vice-President
MOSCOW, Feb 8 (AFP) — A Russian General today said that Chechen Vice President Vakha Arsanov was killed as he tried to break out of the besieged capital Grozny, Interfax news agency reported. Chechen sources did not immediately confirm Arsanov's death.