Tuesday, February 15, 2000,
Chandigarh, India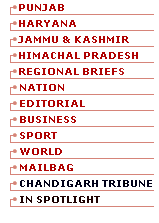 S P O T L I G H T
Blast suspect held
JAMMU, Feb 14 (PTI) — The main suspect in the Friday's blast in a vegetable market in Jammu which killed five persons and injured 25 others has been arrested.The Afghan-trained accused, identified as Ashraf alias Nikka alias Nissar, hailing from Mohare in Udhampur district, was arrested in a raid in the Narwala area of the city last night, the police said.
Uma to meet Deepa
JAMSHEDPUR, Feb 14 (PTI) — BJP leader Uma Bharati today said she would meet Deepa Mehta, director of controversial film "Water," in Delhi on Thursday to get a "clear idea" of the project. Ms Bharati told reporters here that she may support Mehta if she was convinced that her controversial movie "Water" did not "hurt the sentiments of common people."
Attack on Laloo
PATNA, Feb 14 (PTI) — RJD President Laloo Prasad Yadav today escaped unhurt when his helicopter was attacked by a stone-throwing mob in the Raghopur constituency in Vaishali district of Bihar. Director-General of Police K.A. Jacob said suspected supporters of sitting RJD MLA from Sonepur Raj Kumar Rai, who was denied ticket for the assembly poll this time, threw stones at the helicopter when Mr Laloo Prasad Yadav was about to alight to address an election meeting in the Sabbalpur-Diara area.