Wednesday, February 16, 2000,
Chandigarh, India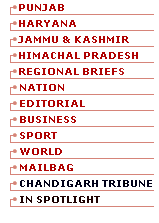 S P O T L I G H T
IRA withdraws from arms talks
LONDON, Feb 15 (DPA) — The Nationalist Irish Republican Army (IRA) has withdrawn from talks with the international arms decommissioning body. It announced the move in a statement released today in which it said it was also withdrawing all proposals it had made to the commission. The statement came as crisis talks were being held in a bid to find a way out of the deadlock over disarmament of paramilitary groups in Northern Ireland. The crisis over decommissioning of weapons had led to the suspension of the power-sharing executive in Northern Ireland.
EC observer
KODERMA, Feb 15 (PTI) — Vehicles carrying an Election Commission observer and a senior government official were stoned allegedly by RJD activists at a village in Bihar's Koderma district last night, officials said today. Deputy Commissioner and District Election Officer of Koderma Vandana Kini told reporters today that the EC observer Kalpana Mittal Baruah and Deputy Development Commissioner of Koderma M.A. Ashrafi, however, escaped unhurt in the attack which took place at Chardih village near here.
NCW members
NEW DELHI, Feb 15 (PTI) — K. Shantha Reddy and Anusuiya Uike have taken charge as members of the National Commission for Women (NCW) raising its strength to five. The commission, which earlier had only three members, Hameeda Sayeed, Punima Advani and Vijay Daksh, is now in its full strength comprising the Chairperson, five members and member secretary, NCW Deputy Secretary R. Bhama said today. The members joined in place of Indira Balsavraj and Sukashi Oram, who retired from the commission last year in October.