Monday, February 21, 2000,
Chandigarh, India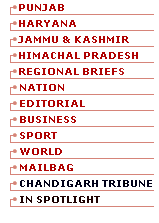 S P O T L I G H T

Cong MLA shot dead
BANGALORE, Feb 20 (PTI) — Congress MLA Vasanth Asnotikar was shot dead last night by three motorcycle-borne assailants while he was overseeing preparations for his daughter's wedding reception at Karwar town, 520 km from here, the police said today. Director-General of Police T. Srinivasulu said here that "personal and political enmity" was suspected to be behind the murder. He said three persons, including one who is believed to have masterminded the killing, had been taken into custody and efforts were on to trace the assailants.
Curfew imposed
JAIPUR, Feb 20 (UNI) — Indefinite curfew was clamped and five companies of the Rajasthan Armed Constabulary (RAC) deployed in Tonk this morning following the death of a youth in a violent clash between two groups of students at Government College last night. At least 43 persons, including 35 anti-social elements involved in the incident and other activities like trying to set afire a jeep and stonning police gypsy and state roadways buses, had been arrested at the district headquarters town of Tonk, said an official spokesman here tonight.
Sharad attacked
PATNA, Feb 20 (UNI) — Civil Aviation Minister Sharad Yadav was seriously injured today when suspected RJD activists attacked his chopper at Madhepura in Bihar. The police here said the pilot also sustained injuries and the chopper was badly damaged. This was the second attack on Mr Yadav in North Bihar during electioneering.