Friday, February 25, 2000,
Chandigarh, India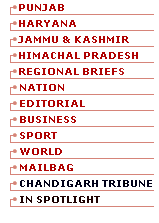 H A R Y A N A

Cong protesters block traffic
KAITHAL, Feb 24 — Tension mounted here when hundreds of supporters of a former Haryana minister and the Congress candidate, Mr Tejinder Pal Mann, from Pai constituency of this district laid a siege to the local Pehowa chowk crossing today.
INLD-BJP candidate's plea to CEC
HISAR, Feb 24 — The Indian National Lok Dal and Bharatiya Janata Party alliance candidate from here, Dr Kamal Gupta, has filed a petition with the Chief Election Commissioner, seeking disqualification of an Independent candidate form here, Mr Om Prakash Mahajan.
Peaceful repoll in Haryana
CHANDIGARH, Feb 24 — Moderate to high polling has been reported from 23 booths in Haryana where a peaceful repoll was held today.
Ambala lawyers suspend work
AMBALA, Feb 24 — The district bar association, Ambala, today suspended work to protest against the arrest and registration of a case against an advocate.
87% polling in Chhachhrauli
CHANDIGARH, Feb 24 — Chhachhrauli in Yamunanagar district recorded the highest percentage of 87.06 polling in the Haryana Assembly elections held on February 22.
Haryana Cong to contest on party symbol
CHANDIGARH, Feb 24 — The Haryana Congress has decided to contest the coming elections to the civic bodies in the state on the party symbol.
Relief for potato growers sought
YAMUNANAGAR, Feb 24 — Mr Sat Pal Kaushik spokesman of the Haryana Krishak Samaj, while talking to newspersons here today, alleged that farmers were being forced to sell potato at the rate of Re 1 per kg whereas the cost of production was Rs 2 per kg. The potato producers had to give Rs 20 to labourers as packing charges of each bag. So the each bag of potato costed Rs 175 to the producers in the mandies and they were losing Rs 100 each bag, he added.
Haryana Open School results
BHIWANI, Feb 24 — The results of Matric and Senior Secondary Examination, December, 1999 of the Haryana Open School have been declared.
Cash counters to open on holidays
SONEPAT, Feb 24 — The Uttari Haryana Bijli Vitran Nigam has decided to open its cash counters in offices falling under the Sonepat circle on February 26, 27 and 29 which are gazetted holiday.





New schedule for Panchayat poll
Feb 24, 2000
69 pc turnout in five constituencies
Feb 23, 2000
Congress, INLD closely placed
Feb 22, 2000
BJP activist hurt in clash with Congress
Feb 22, 2000
Hooda makes final attempt to woo Jats
Feb 21, 2000
It's fight among turncoats in Bhiwani
Feb 21, 2000
Advani pleads for Chautala
Feb 20, 2000
Congress wave in Haryana: Singla
Feb 19, 2000
BSP confident of victory
Feb 19, 2000
Hooda: Cong to probe Chautala's misdeeds
Feb 18, 2000
Congress ahead in Sohna
Feb 18, 2000
Expulsions galore in Haryana
Feb 17, 2000
More educated people joining politics
Feb 17, 2000
Pension scheme used to boost INLD image?
Feb 16, 2000