Saturday, February 26, 2000,
Chandigarh, India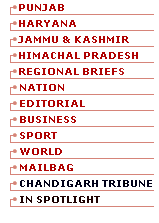 S P O T L I G H T
George Bush hospitalised
WASHINGTON, Feb 25 (AFP) — Former US President George Bush is in a Florida hospital being treated for an irregular heart beat, spokesman for Mr Bush Jim McGrath said today, adding that it was "not a serious condition." Mr Bush, 75, was taken to hospital in Naples, Florida, late yesterday after he felt light-headed at the close of a banking conference he attended, Mr McGrath said, adding that Mr Bush was looking forward to flying back home to Houston, Texas.
Bill Clinton
WASHINGTON, Feb 25 (PTI) — US President Bill Clinton will make a brief stop at Lahore Airport at the end of his trip to India "to prop up pro-western forces in Pakistan", The Washington Times reported today. It attributed the information to a "prominent Pakistani-American".