Friday, March 3, 2000,
Chandigarh, India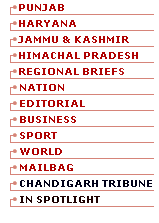 S P O T L I G H T
Manipur Ministry sworn in
IMPHAL, March 2 (UNI) — Mr W. Nipamacha Singh was today sworn in as Chief Minister of Manipur heading a 34-member two-tier coalition ministry. The swearing-in ceremony scheduled for 10.45 a.m. was deferred till 3.30 p.m. following the Chief Minister designate's failure to submit the list of ministers. Governor Ved Marwah administered the oath of office and secrecy to the ministers. Of the 34 members in the Council of Ministers, 23 are of Cabinet rank and 11 Ministers of State. Mr L Chandramani Singh will be Deputy Chief Minister while five Ministers of state will hold independent charge.
10 killed in ambush
MANILA, March 2 (DPA) — At least 10 soldiers and pro-government militiamen were killed and four others wounded in an ambush today by Communist rebels in the central Philippines, the military said. The government troops were attacked on their way to a nearby town to pursue another band of Communist rebels, who had earlier assaulted an army detachment, he said.
Indo-China talks next week
NEW DELHI, March 2 (PTI) — India and China would hold their first-ever broad-based security dialogue in Beijing next week, it was officially announced today. The two-day talks, which are likely to include issues of nuclear proliferation in the region, including China's reported assistance to Pakistan's nuclear and missile programmes, would begin on March 6.