Monday, March 6, 2000,
Chandigarh, India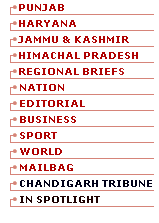 S P O T L I G H T
5 AIADMK men crushed
PERAMBADUR, March 5 (UNI) — Five AIADMK functionaries were crushed to death and 10 others sustained injuries when the van in which they were travelling collided with a state transport corporation bus at Thozudur, near here, this morning. The police said even as the ill-fated van was lying on the middle of the road after hitting the platform of a bridge, the speeding bus, proceeding to Chennai, from Tirunelveli, rammed into it, crushing to death two persons on the spot.
5 pilgrims killed
HYDERABAD, March 5 (UNI) — Five pilgrims were killed and 11 others injured when they fell from the roof of the Giddalur-Guntur passenger train near Vinukonda in Guntur district of Andhra Pradesh, yesterday. The police said today that the incident occurred when some of the passengers on the roof of the overcrowded train lost balance and fell following a jerk while the train was negotiating a curve.
LS speaker calls all-party meeting
CALCUTTA, March 5 (PTI) — Lok Sabha Speaker GMC Balayogi tonight said he had called an all-party meeting in Delhi tomorrow to end the week-long impasse in Lok Sabha over the RSS issue. "We have lost an entire week (in Parliament), there will be an all-party meeting tomorrow to see what can be done," Mr Balayogi, who was here to pay his last respects to departed CPI leader Geeta Mukherjee, said.
Bid to kill minister
GUWAHATI, March 5 (PTI) — A week after the assassination of Assam PWD Minister Nagen Sarmah, Minister of State for Power Hiranya Konwar today escaped an attempt on his life by ULFA when a bomb planted on the road went off minutes after his car passed on it in the state's Sibsagar district. The minister's car was damaged at the rear end as the bomb went off just after his vehicle crossed, the police said.