Tuesday, March 7, 2000,
Chandigarh, India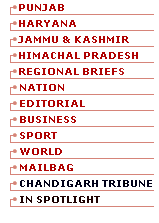 S P O T L I G H T
Meghalaya CM resigns
SHILLONG, March 6 (UNI) — Meghalaya Chief Minister B.B. Lyngdoh resigned tonight after his ministerial colleagues said they had lost faith in his ability to govern and made way for Speaker E.K. Mawlong to hold the reins of the state. Mr Mawlong, who announced the surprise decision after a closed door meeting of the ruling United Democratic Party's legislature party, said the Governor would be told about it. Emerging from the meeting, a bristling Mr Lyngdoh said he had resigned from the party and his office and would join a "good national party".
Pak fishermen held
RAJKOT, March 6 (PTI) — Eleven Pakistani fishermen, aboard a Pakistani vessel, were arrested by the Coast Guards when they strayed into Indian waters off Porbandar Coast yesterday, official sources said here today. On a tip-off by Indian fishermen about suspicious movements in mid sea, the Coast Guards launched a hunt and captured the boat after a two-day search and arrested the fishermen.
Bihar train mishap
SAHARSA (Bihar), March 6 (PTI) — Six persons were killed and 50 injured when two pilot engines collided head-on in thick fog on the Saharsa-Mansi section in Bihar today, Railway sources said. Running through thick fog, the pilot engine on its way to Saharsa rammed into another, coming from the opposite direction, on the Sonbersa-Kutchery station.
Orissa portfolios
BHUBANESWAR, March 6 (UNI) — Orissa Chief Minister Naveen Patnaik retained Home, General Administration, Water Resources, Agriculture and Information Technology while allotting portfolios among his Council of Ministers here today.