Thursday, March 9, 2000,
Chandigarh, India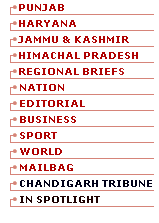 C A L E N D A R
Thursday, March 9, 2000
Vikrama Samvat
2056
Phalguna
26
Shaka Samvat
1921
Phalguna
19
Hijri
1420
Zilhij
2
Phalguna Shukla Paksha Triteeya up to 8.30 a.m.
The third lunar day of the bright half of Phalguna Revati Nakshatra up to 6.47 a.m.
Ashwini obliterated (Nakshatrakshaya)
Beginning of Bhadra at 8.12 p.m.
The Moon enters Aries at 6.47 a.m.
Sant Chaturthi
Vinayak Chaturthi
Ending of Panchaka at 6.47 a.m.