Saturday, March 11, 2000,
Chandigarh, India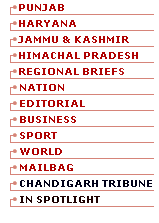 S P O T L I G H T
PM's task force
NEW DELHI, March 10 (PTI) — The high power task force on Knowledge Society today decided to review the present educational curriculum and explore possibilities of using Doordarshan and FM channels to realise the objective of making India a knowledge superpower. Deputy Chairman of the Planning Commission K.C. Pant told reporters after chairing the first meeting of the task force, appointed by the Prime Minister last month, that it would submit recommendations to the government within six months.
Law colleges
NEW DELHI, March 10 (UNI) — The Bar Council of India (BCI) has ordered closure of all evening law colleges in the country in the coming academic session in view of poor quality of legal education in the country. The Bar Council, the apex body empowered to maintain standards of excellence in legal education and legal practices in the country, said.
Church "looted"
NEW DELHI, March 10 (PTI) — A prominent Christian organisation today alleged that unidentified intruders looted a Catholic church in Samalkha town of Haryana and made off with about Rs 60,000. No one was injured in the attack early yesterday and Father Aseem Raj, priest to Ish Mata Church, had to save his life by bolting himself in the bathroom of his bedroom, Mr John Dayal, national convener of the United Christian Forum for Human Rights, said here.