Sunday, March 12, 2000,
Chandigarh, India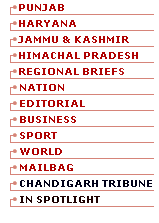 S P O T L I G H T
5 LTTE bombers commit suicide
COLOMBO, March 11 (UNI) — Five LTTE suicide bombers committed suicide early this morning after an overnight gunbattle with the security forces which followed a botched rebel ambush on a VIP motorcade. The incident occurred at Borella in south Colombo where the Tamil militants who escaped the abortive attempt to ambush a VIP motorcade had taken shelter.
No rollback: Sinha
NEW DELHI, March 11 (PTI) — Finance Minister Yashwant Sinha has said he is not in favour of rollback in prices of foodgrains and fertilisers despite pressure from the NDA allies. "Pressure will continue, but I will not rollback though somewhere a compromise might be reached (with the NDA allies)," Mr Sinha told a private TV channel. "I will explain to our allies as many times as necessary the imperatives of undertaking marginal reduction in subsidies," he told Star TV's "Janata Ki Adalat" to be telecast tomorrow, a press note by the channel said.