Thursday, March 16, 2000,
Chandigarh, India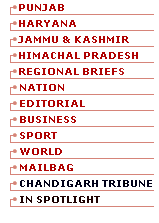 S P O T L I G H T
Special CL for Haryana staff
Tribune News Service
CHANDIGARH, March 15 — The Haryana Government has decided to declare March 16, a special casual leave for the employees belonging to blocks where panchayat elections are scheduled to be held on that day, to enable them to cast vote. This special leave will be allowed to the employees stationed at Chandigarh or Panchkula subject to the conditions that such employees are not required to be present at station headquarters in connection with the ongoing Budget session.
Kanshi begins Jeep yatra
KANYAKUMARI, March 15 (UNI) — Bahujan Samaj Party leaders Kanshi Ram and Mayawati today embarked on a Jeep yatra from here as part of their year-long agitation against the BJP-led National Democratic Alliance government's decision to review the Constitution. Mr Kanshi Ram said in the first phase of the agitation, similar rallies would be started from 10 states on various days and culminate at Mumbai on April 15.
2 cops killed
KATHMANDU, March 15 (Reuters) — Suspected Maoist rebels killed two officers and wounded seven during an attack on a police post in West Nepal, the police said today. The incident took place at Bhingri in Pyuthan district, about 400 km west of Kathmandu, late yesterday. ''Two police officers were killed in the incident and another seven were injured,'' a police spokesman said.
Lakhubhai case
NEW DELHI, March 15 (UNI) — A Delhi court today set April 17 as the deadline for the CBI to conclude its evidence in the Lakhubhai Pathak cheating case against Former Prime Minister P.V. Narasimha Rao and two others. Additional Sessions Judge Ajit Bharihoke gave the ultimatum to the CBI after its counsel told the trial court that Walter Ernie Miller, a key witness in the case, had died in Canada on February 28.