Wednesday, March 22, 2000,
Chandigarh, India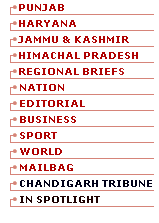 S P O T L I G H T

Nawaz Sharif case
KARACHI, March 21 (Reuters) — Prosecutors trying ousted Pakistani Prime Minister Nawaz Sharif ended their arguments today with another demand for a death sentence for hijacking, saying that the fact he was not on the plane did not matter. Prosecutor Raja Qureshi told an anti-terrorism court in Karachi that Mr Sharif, his brother Shahbaz and five others were guilty of hijacking, attempted murder and terrorism in connection with an October 12 incident when a civilian plane carrying Army Chief General Pervez Musharraf and 198 passengers was briefly denied permission to land at Karachi.
Advocates' strike
NEW DELHI, March 21 (PTI) — The Delhi High Court today issued notices to the Centre, the Delhi Police Commissioner, the Bar Council of Delhi (BCD) and others on a petition seeking an early end to the month-old strike by advocates and suspension of police officials responsible for the lathicharge on them. A Division Bench, comprising Acting Chief Justice Devinder Gupta and Justice Cyriac Joseph, directed all the respondents to file replies before 2.00 p.m. tomorrow.
INSAT-3B
NEW DELHI, March 21 (PTI) — India's new-generation communications satellite INSAT-3B is ready for take-off aboard the European Ariane-5 rocket from the spaceport of Kourou in French Guyana tomorrow. The Ariane 505 launch vehicle rolled into the launch pad at the Guyana Space Centre last night, an Indian Space Research Organisation (ISRO) official said.