Thursday, March 23, 2000,
Chandigarh, India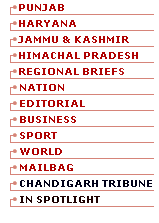 S P O T L I G H T
Shanmugham sworn in Chief Minister
PONDICHERRY, March 22 (PTI) — The Congress returned to power in this union territory after a gap of nearly four years with senior leader P Shanmugham being sworn in as Chief Minister today. Shanmugham alone was sworn in by the Lt Governor Rajni Rai. Soon after assuming office, he called on the Lt Governor and recommended that Pondicherry TMC President P Kannan be inducted into his Council of Ministers. Shanmugham later told reporters that this was being done to prepare the Budget, which had to be passed by the assembly before March 28.
Rail track blown up
CUDDALORE, March 22 (UNI) — Passengers of the Chennai-Quilon Express and Thanjavur-Chennai fast passenger train had a miraculous escape when a bomb, planted on the tracks, went off near Soorappanaickenchavadi railway gate, near here, last night minutes before the trains were to pass over the spot. The bomb went off at 9.40 pm, Superintendent of Police Abeykumar Singh told UNI today. About three feet length of track was blown off under the impact of the blast. The explosive was suspected to be planted by cadres of the Tamil Nadu Liberation Force and Tamil Nadu Communist Party (Lenin).