Sunday, April 2, 2000,
Chandigarh, India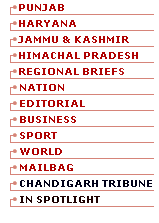 S P O T L I G H T
Trinamool leader shot dead
BARRACKPORE, April 1 (UNI) — Unknown assailants shot dead West Bengal Trinamool Yuva Congress North 24 Parganas district President Bikas Basu on Ghoshpara road in Ichapur today, triggering off a pitched battle between the party supporters and the police in the area. The 42-year-old leader, who was a school teacher, succumbed to bullet wounds in the Ichapur rifle factory hospital after he was shot point-blank at his chest by three assailants, in their twenties, around 8 a.m., the police said.
TMC for joint stir
CHENNAI, April 1 (PTI) — The Tamil Manila Congress today favoured a joint agitation by the Opposition against the BJP-led government's "anti-poor" policies like the hike in the price of rice supplied through the public distribution system (PDS) and petroleum products. Piecemeal and scattered agitations by the Opposition would not achieve the desired results, TMC President G.K. Moopanar told reporters here, adding that his party was planning a convention here to consolidate the forces against the BJP.
6 Cong men expelled
JAIPUR, April 1 (UNI) — Taking tough stand against "indiscipline" in the party, the Rajasthan Congress Disciplinary Committee has expelled six partymen for six years, on various "indiscipline charges" and anti-party activities during the panchayat and municipality elections. A decision to this effect was taken by Rajasthan Congress Disciplinary Committee at its meeting presided over by its president and MLA Janardan Singh Gehlot.