Wednesday, April 5, 2000,
Chandigarh, India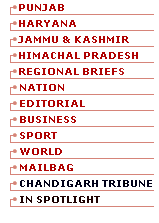 C A L E N D A R
Wednesday, April 5, 2000
Vikrama Samvat
2057
Chaitra
23
Shaka Samvat
1922
Chaitra
16
Hijri
1420
Zilhij
29
Chaitra Shukla Paksha Pratipada upto 9.55 p.m.
The first lunar day of the bright half of Chaitra.
Revati Nakshatra up to 2.28 p.m.
The moon enters Aries at 2.28 p.m.
Vikram new Samvatsara Day.
Samvatsara Phaladesha Listening/Reading Day.
Ending of Panchaka at 2.28 p.m.
Durga Mata pooja Week begins.
First spring Navaratra.