Thursday, April 6, 2000,
Chandigarh, India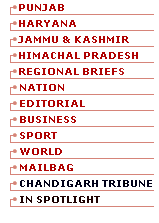 C A L E N D A R
Thursday, April 6, 2000
Vikrama Samvat
2057
Chaitra
24
Shaka Samvat
1922
Chaitra
17
Hijri
1420
Zilhij
30
Chaitra Shukla Paksha Dwiteeya up to 7.45 p.m.
The second lunar day of the bright half of Chaitra.
Ashwini Nakshatra up to 1.10 p.m.
The sighting of the new Moon.
Jhoole Lal Jayanti (Sindhi festival).
Sarvartha-siddhi yoga up to 1-10 p.m.
Second Navaratra.