Tuesday, April 11, 2000,
Chandigarh, India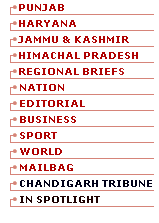 C A L E N D A R
Tuesday, April 11, 2000
Vikrama Samvat
2057
Chaitra
29
Shaka Samvat
1922
Chaitra
22
Hijri
1421
Moharram
5
Chaitra Shukla Paksha Saptami up to 8.00 a.m.
The seventh lunar day of the bright half of Chaitra.
Ashtami obliterated (Tithiksyaya)
Punarvasu Nakshatra up to 3.55 a.m. (April 12).
The moon enters Cancer at 10.15 p.m.
Bhadra from 8.00 a.m. to 7.03 p.m.
Mercury enters Uttarabhadrapada at 8.15 a.m.
Durga Ashtami
Ashoka Ashtami.
Bahu Fort fair (Jammu)
Mansa Devi fair (Haryana).