Tuesday, April 18, 2000,
Chandigarh, India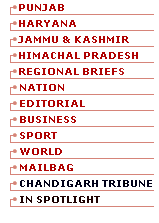 C A L E N D A R
Tuesday, April 18, 2000
Vikrama Samvat
2057
Vaishakha
6
Shaka Samvat
1922
Chaitra
29
Hijri
1421
Moharram
12
Chaitra Poornima up to 11.10 p.m.
The fifteenth lunar day of the bright half of Chaitra.
Chaitra Nakshatra up to 2.5 a.m. (April 19)
Ending of Bhadra at 11.10 a.m.
The Moon enters Libra at 1.40 p.m.
Satyanarayana Brata.
Chaitri Poornima.
Hanuman Jayanti.
Manakpur Sharif Fair (Ropar, Punjab).