Friday, April 21, 2000,
Chandigarh, India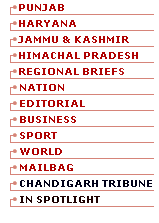 S P O T L I G H T
Bank exams put off
NEW DELHI, April 20 (PTI) — Bowing to demands from members, the government today announced in the Lok Sabha the postponement of banking and postal examinations scheduled on April 23 in view of Easter. An announcement to this effect was made by Parliamentary Affairs Minister Pramod Mahajan.
69 dead in mishap
NAIROBI, April 20 (AFP) — At least 69 persons died early today when a Mombasa-bound bus collied head on with truck-trailer at Mtito Andei along the busy Nairobi-Mombasa highways, the official Kenyan News Agency reported.
VHP conclave
AYODHYA, April 20 (PTI) — The Vishva Hindu Parishad (VHP) today began a two-day high-level conclave to finalise the date and discuss the strategy for the construction of the proposed Ram temple here. The conclave, inaugurated by VHP's international President Ashok Singhal is considered important as it is expected to set the date for starting the temple construction.