Saturday, April 22, 2000,
Chandigarh, India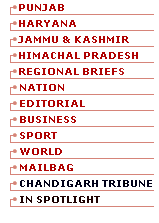 S P O T L I G H T
500 feared dead in boat capsize
LAGOS, April 21 (APF) — About 500 persons are feared dead after an overcrowded boat capsized in a river in southern Nigeria, press reports said today. The boat was travelling on the Nembe creek between Port Harcourt and Yenagoa late Wednesday when the accident occurred, the Comet reported.
Vajpayee better
NEW DELHI, April 21 (UNI) — Prime Minister Atal Behari Vajpayee is expected to attend office tomorrow and will chair the full Cabinet, Cabinet Committee on Economic Affairs and Cabinet Committee on Disinvestment meetings, scheduled for Saturday morning. A spokesman for the Prime Minister's Office said Mr Vajpayee was feeling much better today and met a few individuals at his residence.
Rape charge
CHENNAI, April 21 (PTI) — The Tamil Nadu Government today ordered a CB-CID investigation into the complaint of a teacher of a deaf school in Thanjavur that she was raped by an IAS officer here on March 11, an official press note said here. It said the probe would find out whether the complaint of Ponmani that she was raped by the Director of Handicapped Welfare, Mr M. Kalaivanan, was true. However, Mr Kalaivanan had denied the allegation.
150 kids hospitalised
From Our Correspondent
KATHUA, April 21 — At least 150 school children were admitted to Sub-District Hospital, Heernagar, when they fell ill after consuming ice-cream this afternoon. Most of the children were between the age group of eight to 15 nears. It is learnt that after the school time, while going home, the children consumer ice-cream (kulfi) purchased from a local shop of one Hans Raj, son of Julla Ram of Heernagar.