Monday, April 24, 2000,
Chandigarh, India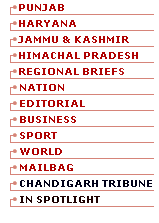 S P O T L I G H T
Army to launch operation
SHILLONG, April 23 (UNI) — The Army is planning a military operation against Karbi national volunteers at least 22 persons were massacred during the past fortnight in Karbi-Anglong district. General Officer in Commanding of a 4 Cops, also the operational head of unified command, D.B. Shekatkar said the Army operation would be carried out in selective areas of the hill district in the initial stage.
Curfew lifted
VARANASI, April 23 (UNI) — Curfew was lifted from some areas of five police circles of Varanasi as the situation was gradually returning to normal after communal disturbances early this week.
7 coaches derailed
LAKHISARAI, April 23 (PTI) — Seven coaches of the 306 down Amritsar Mail jumped off the track near Mananpur railway station on the Kiul-Jhajha section of the Eastern Railway late last night, according to Railway sources. However, there was no casualty, the sources added.
Laden 'making' bomb
LONDON, April 23 (PTI) — The USA fears that international terrorist Osama-bin-Laden is trying to develop an "Islamic bomb" capable of contaminating large areas for many years, following the recent seizure of radioactive nuclear material being smuggled to Pakistan from the former Soviet Union, a media report here said today.