Tuesday, April 25, 2000,
Chandigarh, India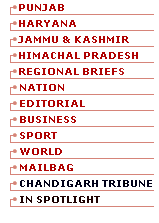 S P O T L I G H T
Bank employees defer strike
MUMBAI: April 24 (PTI) — The one-day all-India bank strike called by two major bank officers' union on April 26 to press for the implementation of new scales for officers in the three weak banks has been deferred following conciliation proceedings initiated by the Regional Labour Commissioner (Central). Following the IBA's assurance both the AIBOC and the AIBOA have agreed to defer the stir till May 30.
Bangarappa case
NEW DELHI, April 24 (PTI) — The Supreme Court today upheld a Karnataka High Court order discharging former Chief Minister S. Bangarappa in a case of disproportionate assets to the tune of over Rs 4 crore. A division Bench comprising Mr Justices S. Saghir Ahmad and Mr Justice Doraiswamy Raju dismissed the petition filed by the CBI challenging the high court order.
Ultras shoot five
DIPHU (Assam), April 24 (PTI) — Five labourers were killed by militants of the United People Democratic Solidarity (UPDS) in Assam's Karbi Anglong district, official sources said today. A group of 15 militants surrounded remote Akhoiphutagaon village last night and asked the people to come out. The ultras opened fire, killing five Bihari labourers on the spot.