Friday, April 28, 2000,
Chandigarh, India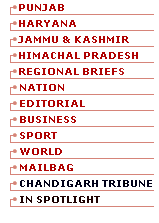 M A I N N E W S
CM effects minor reshuffle
Mohinder Singh remains PWD Minister
From Rakesh Lohumi
Tribune News Service
SHIMLA, April 27 — The seven-day resignation drama ended in a whimper today with Mr P.K. Dhumal, Chief Minister, effecting a minor reshuffle of portfolios but sending a clear signal that he was in no mood to oblige the HVC supremo, Mr Sukh Ram, by dropping Mr Mohinder Singh, PWD Minister, from the Cabinet.
However, Mr Mohinder Singh, who was recently expelled from the HVC, was divested of the Excise and Taxation portfolio. Mr Praveen Kumar, Minister of State for Youth Services and Sports and a confidant of the Chief Minister, was rewarded with the independent charge of Excise and Taxation in addition to his present portfolio.
The portfolio of Mr Ram Lal Markanda, Rural Development Minister and the only member of the Sukh Ram faction of the HVC in the Cabinet, was swapped with that of Mr Prakash Chaudhary, Minister of State for Animal Husbandry. Mr Chaudhary was elected on the HVC ticket but he joined the BJP to pave the way for the formation of a coalition government in the wake of a Hung Assembly.
Mr Krishan Kapoor, Transport Minister and a staunch Suanta Kumar loyalist, was divested of the Tribal Development portfolio and was allocated the less important portfolio of Election.
Dr Rajan Sushant, Revenue Minister who had initiated the resignation drama, was rewarded with the additional charge of Science and Technology, while Mrs Urmil Thakur, Parliamentary Secretary, hitherto attached to the Chief Minister with the Public Relations portfolio has now been attached to Health Minister J.P. Nadda. Mr Chet Ram Negi, also Parliamentary Secretary, has been attached to the Chief Minister with Tribal Development. The third Parliamentary Secretary, Mrs Sarveen Chaudhary, has been attached with the Industry Minister,Mr Kishori Lal with Labour and Employment.
Mr Mohinder Singh, PWD Minister, has not only been able to retain his place in the Cabinet but also managed to retain the all important portfolio of Public Works. There was tremendous pressure on Mr Dhumal to drop him from the Cabinet. Some senior BJP ministers were eyeing the portfolio.