Friday, April 28, 2000,
Chandigarh, India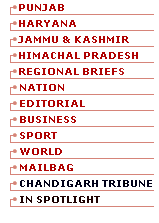 S P O T L I G H T
34 killed in Jaffna
COLOMBO, April 27 (UNI, PTI) — In renewed fighting in northern Jaffna, at least 34 persons, including nine soldiers, were killed as the government's forces engaged rebel targets. Meanwhile, in a new revelation to the December 18 LTTE assassination attempt on President Chandrika Kumaratunga, it has now been officially revealed here that the Indian Government had given a fairly early and accurate alert to Colombo about a possible attempt on her life on the same date.
Atal has throat infection
NEW DELHI, April 27 (PTI) — The Prime Minister Mr Atal Behari Vajpayee, is slightly indisposed with a recurring throat infection and has been advised not to make speeches for a couple of days. "He has been advised to avoid making speeches for a couple of days. Accordingly, Vajpayee did not address the BJP parliamentary party meeting this morning," a press note issued by Prime Minister's Press Adviser H.K. Dua said. However, the Prime Minister will continue to keep other scheduled engagements.
12 PWG men shot
HYDERABAD, April 27 (PTI) — Twelve Peoples' War Group Naxalites, including five women, were today killed in an encounter with police in Kavakondaguttala village in Warangal district of Andhra Pradesh. The police said the exchange of fire was still on near Chandragiri.