Friday, May 5, 2000,
Chandigarh, India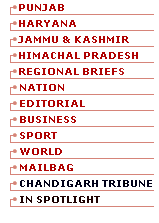 S P O T L I G H T
Putin ratifies START II
MOSCOW, MAY 4 (PTI) — Acting Russian President Vladimir Putin today signed the US-Russian nuclear arms reduction treaty start ii, Itar-Tass reported.
The treaty obligates Russia and the US to cut nuclear stockpiles to 3,000-5,000 nuclear warheads each.
11 die in fire
MATHURA, May 4 (PTI) — At least 11 persons were killed and 130 injured when a fire swept through the shop of a diesel dealer at a village in Mathura district of Uttar Pradesh last night, police and official sources said today. The fire broke out when a diesel drum kept at the shop, at Beri village 5 km from Farah town, exploded and engulfed several nearby thatched houses.
Army orders probe
PUNE, MAY 4 (PTI) — An inquiry has been ordered to ascertain the cause of the fire near the Defence Ammunition Depot in Dehu yesterday, Major-General B.K. Boppanna, in charge Administrator of Southern Command, said today.