Saturday, May 6, 2000,
Chandigarh, India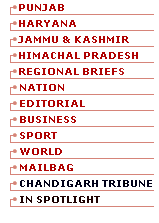 S P O T L I G H T

Centre's additional aid for Gujarat
NEW DELHI, May 5 (PTI) — The Centre today announced an additional Rs 200 crore to tackle the century's worst drought in Gujarat, the state government said. The announcement of the additional central assistance came soon after state Chief Minister Keshubhai Patel met the Prime Minister, Mr Atal Behari Vajpayee, today to apprise him of the drought and measures being taken by the state government to tackle it.
SC ruling on petrol
NEW DELHI, May 5 (PTI) — After banning the plying of over eight-year-old buses, the Supreme Court in a bid to lower vehicular pollution today directed the Centre to provide petrol with 0.05 per cent sulphur content, from June and 1 per cent benzene content from October in the National Capital Region (NCR).