Wednesday, May 10, 2000,
Chandigarh, India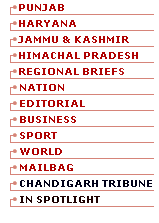 M A I N N E W S
Lanka gets arms supply
NEW DELHI, May 9 (UNI) — Sri Lanka High Commissioner to India Mangla Moonsinghe today confirmed it that his government has received a supply of arms to equip its 35,000 trapped soldiers in the Jaffna penninsula for launching offensive against the LTTE.

"Sri Lanka has begun to receive weapons," the High Commissioner said in an interview with Star TV, but refused to give the names of the countries that provided ammunition for its army.

He welcomed India's offer to mediate between the LTTE and the Sri Lankan Government to end ethnic violence in the island nation.

The Chief of the Air Staff, Air Chief Marshal Anil Yashwant Tipnis (left) reviews the guard of honour at the Sri Lankan Air Force headquarters in Colombo on Monday. —AP/PTI
The High Commissioner did not favour IPKF-type operation by India in Jaffna to stop the LTTE's march in the penninsula.
Asked if Colombo has sought any assistance from Pakistan, Moonesinghe said Sri Lanka had been shopping arms from all over the world whether from Pakistan, China, Israel, the USA or Britain.
A report from Ramanathapuram said fishermen today rescued 12 Sri Lankan refugees even as the authorities stepped up aerial surveillance and rushed more Coast Guards to monitor the influx of refugees from the island nation.
The 12 refugees from Mannadi in northern Sri Lanka were found stranded in the third sanddune from Adams Bridge and were rescued by fishermen from Dhanushkodi, official sources said, adding they were later sent to the Mandapam camp.
COLOMBO: Indian Air Force chief Air Chief Marshal A.Y. Tipnis, on an official visit to Sri Lanka, called on President Chandrika Kumaratunga.
Though Indian officials have said his visit has no connection with the present Sri Lankan crisis, the air chief is understood to have discussed the overall security scenario during his meeting with the President.
Meanwhile, an official communiqué said here today that government troops effectively repulsed a heavy attack on army positions within hours after the government rejected the ceasefire offer of the Tamil Tigers.