Wednesday, May 10, 2000,
Chandigarh, India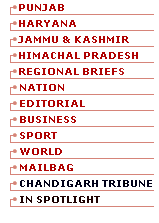 S P O T L I G H T
Trade unions give strike call
NEW DELHI, May 9 (PTI) — The National Platform of Mass Organisations, comprising apex trade unions like the All-India Trade Union Congress and the Centre for Indian Trade Unions, today announced a countrywide general strike on May 11 against the "retrograde" economic, industrial and "anti-poor" policies of the NDA government.
Women's Bill 'soon'
NEW DELHI, May 9 (UNI) — Prime Minister Atal Behari Vajpayee said today that the government was all for the Women's Reservation Bill and it would be introduced in Parliament at the earliest. He was speaking to a delegation of women MPs and representatives of various women's organisations who met him demanding the early introduction of the Bill.

Hearing in Sharif case postponed
KARACHI, May 9 (AFP) — A Pakistani High Court today postponed hearing on a prosecution appeal for deposed Prime Minister Nawaz Sharif to be sentenced to death after his co-defendants sought an adjournment to hire lawyers.