Friday, May 12, 2000,
Chandigarh, India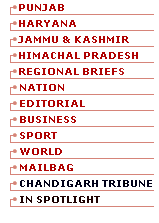 S P O T L I G H T
Fifteen dead inroad mishap
THANE, May 11 (PTI) — At least 15 persons including a child, were killed and over 50 injured when the truck in which they were travelling skidded down a valley in the district today, police said. The truck was carrying 90 passengers, who were returning after attending a religious yatra, when the accident occurred.
Indian peacekeepers
NEW DELHI, May 11 (UNI) — One officer and a jawan of the Indian contingent at Sierra Leone were released unconditionally by Revolutionary United Front (RUF) rebels who are still holding 32 others as hostages, an Army spokesman said here today. The Indian peacekeepers being detained by rebels in the Kailahun area in the trouble-torn West African nation included seven officers, one junior commissioned officer and 24 jawans, the spokesman said.