Saturday, May 13, 2000,
Chandigarh, India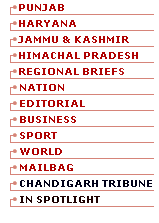 S P O T L I G H T

Jogiís daughter commits suicide
INDORE, May 12 (PTI) ó Congress party spokesman Ajit Jogiís 20-year-old daughter Anusha allegedly committed suicide here today, the police said. Anusha is said to have taken the extreme step at Mr Jogiís residence in the posh Residency Area at around 10 am. She hanged herself to death in the bathroom of the residence, allotted in the name of Mr Jogiís wife, Dr Renu Jogi. Additional Superintendent of Police Jaideep Prasad said, ďSo far no reason has been cited for the suicide nor has any note been found in the residenceĒ.
5 shot in Pakistan
ISLAMABAD, May 12 (DPA) ó Unknown gunmen shot to death five persons and injured another in Jaranwala town in Central Punjab province today, police sources said. The victims were targeted when they were going to Faisalabad town to attend a court session in connection with a criminal case, the Pakistan Press International (PPI) news agency quoted an official as saying.