Sunday, May 14, 2000,
Chandigarh, India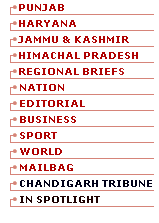 C A L E N D A R
Sunday, May 14, 2000
Vikrama Samvat
2057
Jyeshatha
1
Shaka Samvat
1922
Vaishakha
24
Hijri
1421
Safar
9
Vaishakha Shukla Paksha Ekadashi up to 10.25 a.m.
The eleventh lunar day of the bright half of Vaishakha.
Uttaraphalguni Nakshatra up to 7 a.m.
Ending of Bhadra at 10.25 a.m.
The Sun enters Taurus at 2. 15 p.m.
Sankranti celebrations: forenoon
Mohini Ekadashi
Lakshminarayana Ekadashi (Orissa)
Doongari Jatari Fair at Manali (HP)
Sarvartha Siddhi Yoga — 7 a.m. onwards.