Monday, May 15, 2000,
Chandigarh, India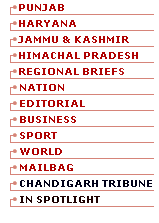 S P O T L I G H T
11 Indian soldiers freed
FREETOWN, May 14 (AP) — Sierra Leone's feared rebels handed over 18 captive UN peacekeepers, including 11 from India, but the rebels also reportedly attacked a key highway junction east of the capital today. David Wimhurst, a UN spokesman in Freetown, said the captives — 11 Indian soldiers and seven unarmed military observers of various nationalities — were released to Indian UN soldiers based in the eastern town of Kailahun, near the Liberian border.
Trishul test-fired
KOCHI, May 14 (UNI) — The naval version of the surface-to-air Trishul missile was successfully test fired form INS Dronacharya of the Cochin naval base here this morning in the presence of Defence Minister George Fernandes. Mr Fernandes told newspersons this evening that the test was satisfactory. Similar tests would continue till May 22 before the missile is inducted into the defence system.
Israeli attacks
BEIRUT, May 14 (AP) — The Israeli air force struck a series of suspected guerrilla hide-outs in south Lebanon today, following attacks on Israeli and allied militia positions. The jets fired a number of missiles at targets in Wadi Zellya in raids.