Tuesday, May 16, 2000,
Chandigarh, India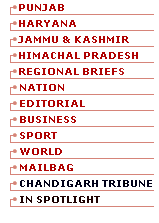 S P O T L I G H T
35,000 pilgrims stranded
GOPESHWAR (UP), May 15 (PTI) — About 35,000 people, mostly pilgrims, have been stranded at several places on the Badrinath-Rishikesh national highway in the border district of Chamoli due to heavy landslides caused by incessant rain lashing the area since yesterday, official sources said today. At least one dozen motor roads on different routes entering Chamoli district were cut off and more than 1500 buses, taxis and cars stranded, the sources said.
Flights to Nepal
NEW DELHI, May 15 (PTI) — After five months of suspension of services to Kathmandu following the hijack of IC-814, the Indian Airlines today formally announced resumption of its daily flights from Delhi and five flights a week from Calcutta to the Nepalese capital from June 1.