IN PASSING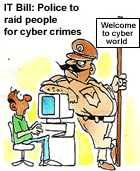 This is a net spun by us. You can't escape!
by Sandeep Joshi
Gyanendra held for assault on wife
LUCKNOW, May 16 — India player and Uttar Pradesh Ranji team skipper Gyanendra Pandey was arrested here today on charges of assaulting and torturing his wife Pratima for dowry.


Punjab in no mood to free prisoners
CHANDIGARH, May 16 — The Punjab Government is in no mood to release TADA detenus facing trial in different courts. Senior police officers, in fact, expressed surprise at the statement of Union Home Minister, Lal Krishan Advani that along with Kashmiri militants, the government was considering the release of some militants from Punjab jails.
EARLIER STORIES
(links open in a new window)