Thursday, May 18, 2000,
Chandigarh, India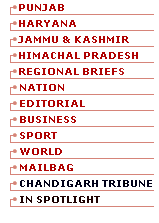 S P O T L I G H T
Russian House ratifies CTBT
MOSCOW, May 17 (Reuters) ó Russiaís upper house of parliament, the Federation Council, ratified a global nuclear test ban treaty today, giving an expected final seal of approval to a pact rejected by the US Senate. The generally pro-Kremlin Federation Council voted during a closed session in favour of ratifying the CTBT, the Chamberís Press Service said. Voting figures were not immediately available. The State Duma, voted to ratify the pact last month and the upper chamberís vote paves the way for President Vladimir Putin to sign it into law.
Three cops killed
HYDERABAD, May 17 ó Three policemen, including as assistant sub-inspector, were killed in an ambush by Naxalites of the banned Peoplesí War Group (PWG) at Dasnagar in Nizamabad district of Andhra Pradesh late last night. The police here said four policemen headed by ASI Gafoor were on patrol duty following reports of increasing thefts in Dasnagar town, when the Naxalites ambushed them.