IN PASSING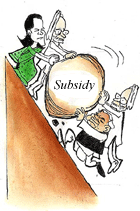 Will the real Manmohan Singh stand up?
by Sandeep Joshi
French Defence Minister Alain Richard inspects
the guard of honour at South Block in New Delhi
on Thursday. — PTI
Abhay may get ministerial berth
GURGAON, May 18 — There is a move for Cabinet expansion in Haryana after the byelection in Rori Assembly scheduled for May 26.
Cauvery talks put off
NEW DELHI, May 18 —The Centre today postponed tomorrow's meeting of the Cauvery River Authority (CRA) after Karnataka decided to boycott it saying it was called "in haste" and at Tamil Nadu's "behest".
2 copters crash; two killed
SHIMLA, May 18 — Wd Cdr Chander Singh of Indian Air Force and Capt Vishal Srivastva, an Army doctor, were killed while four others including Brig B.M. Bakshi, Chief Engineer of the Border Road Organisation, had a miraculous escape when two helicopters of the IAF crashed near Surat Tal, about 60 km from Kaylong, the district headquarters of Lahaul and Spiti, yesterday.
Kanwar Durga Chand dead
SHIMLA, May 18 — Kanwar Durga Chand, a veteran politician and former Power Minister, died after a protracted illness at Indira Gandhi Medical College Hospital here today. He was 80 and unmarried.


Sukh Ram 'divested' of post
SHIMLA, May 18 — The HVC (M) removed Mr Sukh Ram from the post of chief patron of the party today and appointed Mr Mohinder Singh, PWD Minister, in his place.
EARLIER STORIES
(links open in a new window)
23 killed in Lanka blast
May 18, 2000
Bill on devolution of taxes passed
May 17, 2000
J & K minister killed in landmine blast
May 16, 2000
40 feared as bus falls into canal
May 15, 2000
Troops repulse LTTE attacks
May 14, 2000
LTTE signal centre smashed
May 13, 2000
Lankan jets pound LTTE areas
May 12, 2000
Tigers breach army defences
May 11, 2000
Lanka gets arms supply
May 10, 2000
Tipnis in Lanka on 5-day visit
May 8, 2000
Lanka mounts air strikes on LTTE
May 7, 2000