Saturday, May 20, 2000,
Chandigarh, India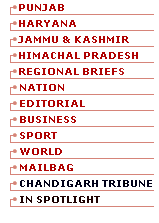 S P O T L I G H T

New computer virus strikes
SAN FRANCISCO/BERLIN, May 19 (DPA) — Another new computer virus has been unleash-ed on the Internet and is causing damage to international computer systems, reports said today. The virus, known as ''vbs.newlove'', follows hard on the heels of the ''iloveyou'' virus which earlier in May caused havoc with computers around the world.
Guerrillas kill 7
AGARTALA, May 19 (UNI) — Outlawed National Liberation Front of Tripura ultras shot dead seven persons, including four women, and injured five in Tripura last night.