Sunday, May 21, 2000,
Chandigarh, India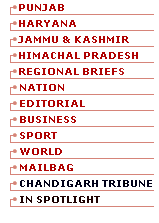 S P O T L I G H T

150 fall ill after taking 'prasad'
BIORA (MP) May 20 (UNI) — One hundred and fifty people fell ill after they took eatables distributed as "prasad" by an unidentified person at the Bakhtapura village in the Rajgarh district of Madhya Pradesh today, Police sources said. A number of people complained of vomiting and loose motion two hours after they consumed the "prasad" that the unidentified person distributed at every house of the village this morning, the sources said.
Ex-minister held
VIJAYAWADA, May 20 (PTI) — Former Minister and senior Congress leader Katari Eswar Kumar has been arrested in connection with the dowry harassment case and is now in the district jail here. Katari was arrested by the Gudivada police on Thursday and was shifted to the jail yesterday and is continuing the hunger-strike he began after his arrest the police said today.
MCC kills 5
DALTONGANJ, May 20 (PTI) — The banned Maoist Communist Centre (MCC) activists killed five persons in Bihar's Chatra and Gumla district late last night, the police said today. Heavily-armed MCC men swooped on Hade village under Simaria police station in Chatra district at midnight and slit the throats of Mohammed Ekram and Mohammed Nijamuddin, who, the police said, had criminal antecedents. Extremists killed three others at Baghma village in Palamu district.