IN PASSING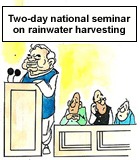 I repeat... no roll back of prices...!
by Sandeep Joshi
Army deployed in Khowai
AGARTALA, May 23 — The Army was deployed in West Tripura's trouble-torn Khowai subdivision, even as life was affected in the state today following a statewide bandh called separately by the ruling and opposition parties.
8 hurt in attack near J&K House
SRINAGAR, May 23 — Militants hurled a grenade on a vehicle of the security forces outside the main gate of the highly guarded Assembly complex here this afternoon, causing injuries to eight persons. In the other militancy-related incidents at least 12 persons, including six militants, were killed.
Spurious drugs on sale
CHANDIGARH, May 23 — Patients: beware of the tablets you take. These can be spurious or substandard. This has come to light following raids conducted by the Punjab Health Department in various markets. Even very costly antibiotics in all forms — tablets, capsules and injections — have been found spurious.
Officer held on graft charge
FEROZEPORE, May 23 — A Punjab Roadways Divisional Manager Mr N.K. Wadhawan, was arrested for allegedly accepting a bribe of Rs 5,000 from an Inspector here this evening.
Chandigarh a dead issue: CM
CHANDIGARH, May 23 — Haryana Chief Minister Om Prakash Chautala considers the issue of Chandigarh's transfer to Punjab a "dead issue".

IAF resources stretched
Maintaining supplies to Kargil
CHANDIGARH, May 23 — A year after the Indian Air Force undertook massive airlift of troops and equipment, inducted in the Kargil Sector to counter incursions by Pakistan-backed elements along the Line of Control, the IAF continues to be saddled with significantly increased commitments even as its fleet serviceability is back to pre-Kargil days.
EARLIER STORIES
(links open in a new window)
10 more companies for Tripura
May 23, 2000
NLFT on killing spree, toll 45
May 22, 2000
Cut subsidies, PM tells states
May 21, 2000
Fiji PM, Cabinet taken hostage
May 20, 2000
Lanka ready for talks with LTTE
May 19, 2000
23 killed in Lanka blast
May 18, 2000
Bill on devolution of taxes passed
May 17, 2000
J & K minister killed in landmine blast
May 16, 2000
40 feared as bus falls into canal
May 15, 2000